Every Wednesday in the Chapel
9am – 5pm
Eucharistic Adoration is adoring or honoring the Eucharistic Presence of Christ. In a deeper sense, it involves "the contemplation of the Mystery of Christ truly present before us".
During Eucharistic Adoration, we "watch and wait", we remain "silent" in His Presence and open ourselves to His Graces which flow from the Eucharist.
By worshiping the Eucharistic Jesus, we become what God wants us to be! Eucharistic Adoration is "God and Man reaching out for each other, at the same time!"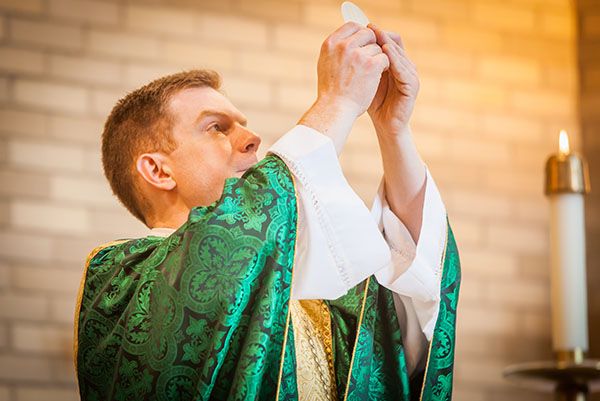 What is The Holy Eucharist?
The Holy Eucharist is a sacrament and a sacrifice. In the Holy Eucharist, under the appearances of bread and wine, the Lord Christ is contained, offered, and received.
(a) The whole Christ is really, truly, and substantially present in the Holy Eucharist. We use the words "really, truly, and substantially" to describe Christ's presence in the Holy Eucharist in order to distinguish Our Lord's teaching from that of mere men who falsely teach that the Holy Eucharist is only a sign or figure of Christ, or that He is present only by His power.
(b) All Christians, with but few minor exceptions, held the true doctrine of the Real Presence from the time of Christ until the Protestant Revolution in the sixteenth century.
(c) The word "Eucharist" means "Thanksgiving."
To learn more about the Eucharist, check out The Catechism of the Catholic Church.
Text
jp2newman
to
84576
to receive text alerts for upcoming events
To sign up for our mailing list, fill out the form below