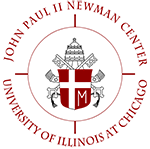 St. John Paul II Newman Center
Helping college students to encounter Christ so they can become fully alive in Him.
The St. John Paul II Newman Center provides a prayerful, social, and joyful home for both Catholics and non-Catholics at the University of Illinois at Chicago. Students, faculty, and staff come together to worship, celebrate Catholic tradition, receive the sacraments, explore the word of God, discern vocations, and form lasting relationships with friends. We invite you to explore our website to learn more about our mission, our staff, events, Mass times, how to support us, and more!
March

2023

Sun
Mon
Tue
Wed
Thu
Fri
Sat

3

Mass

Stations of the Cross

Grilled Cheese Friday

• • •

9

Mass

RCIA

UIC Campus Qurbana

• • •

10

Spring Seminary Sprint

Mass

Stations of the Cross

Grilled Cheese Friday

Newman Women's Night

• • • • •

20

*NEWMAN CLOSED FOR SPRING BREAK*

•

21

*NEWMAN CLOSED FOR SPRING BREAK*

•

22

*NEWMAN CLOSED FOR SPRING BREAK*

•

23

*NEWMAN CLOSED FOR SPRING BREAK*

•

24

*NEWMAN CLOSED FOR SPRING BREAK*

•

31

Mass

Stations of the Cross

Grilled Cheese Friday

• • •
To sign up for our mailing list, fill out the form below