History of Our Center
The St. John Paul II Newman Center at 700 S Morgan St was built as a lasting memorial of the visit of his holiness, Pope (now Saint) John Paul II, to the Archdiocese of Chicago on October 4th-6th, 1979. During that visit, the Holy Father gave his consent for the center to bear his name. The dedication stone (located in the Newman Center) was used in the altar erected for the papal Mass offered in Grant Park on October 5, 1979. The Newman Center was officially dedicated on October 22, 1980.
The campus ministry apostolate at the University of Illinois Circle Campus (the former name of UIC) was established in the spring of 1967, when Fr. Raymond B. Sullivan was appointed as the first Catholic chaplain to the university. His appointment was due to, at least in part, to the request of a group of students under the leadership of Mr. Paul Russo, who was president of the Newman Student Organization at Circle Campus. Cardinal Cody met with the students and at the end of the meeting, promised that he would make the appointment.
Later in that same year, the archdiocese purchased a house at 826 S Morgan St, which served as the Newman Center until September 1980.
In 1968, Fr. Sullivan was joined by Sister Joanne Seise, S.N.D. de Namur, who became the first religious woman to work full-time in campus ministry within the Archdiocese. Fr. Michael Weston joined the staff at Circle Campus in 1975. He was succeeded by Fr. Daniel Montalbano in 1977, who served at Circle until 1980. From 1974-1979, there were six peer ministers who served on the staff at Circle Campus: Roberta Homan, Paul Stewart, Bob Salter, Jack Butler, Peg Hanrahan, and Vincent Barlowe.
In 1980, when the new John Paul II Center was opened, Mrs. Joan Bieler joined the staff as administrator of the center, and Ms. Mona Syms joined as a campus ministry. Fr. Thomas McNeff also served on the staff until December 1980.
The importance of the campus ministry apostolate at Chicago Circle can be seen in the simple statistics. The University of Illinois at Chicago has approximately 20,000 students with about 1/3 of those students self-identifying as Catholic (*data collected from a Religious Preference Survey distributed to all incoming students during their Orientation*). This gives UIC the largest Catholic student population in any university in the Midwest.
Although the Chicago Circle Campus was opened in 1965, the University of Illinois has its start in Chicago at Navy Pier shortly after World War II. The Catholic Campus Ministry was present at that early site as well. Fr. John Marren established the Newman Apostolate at Navy Pier and served as chaplain of the Newman Club until he became pastor of Holy Trinity Parish in the Medical Center in 1955. He was succeeded by Fr. George Malone, who served as chaplain until the Navy Pier campus site closed in 1965.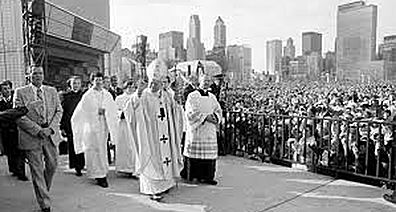 St. JPII's visit to the Archdiocese of Chicago (1979)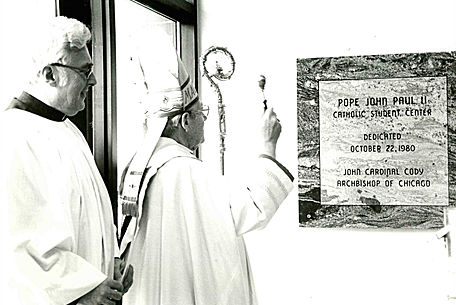 Cardinal John Patrick Cody blessing the Newman Center (1980)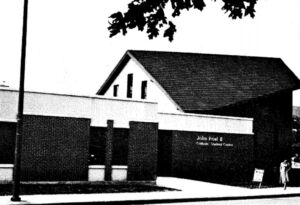 John Paul Newman Center (1980)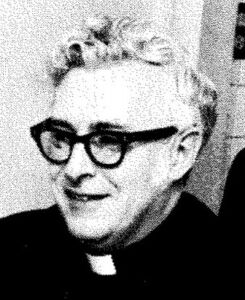 Fr. Raymond B. Sullivan, Chaplain (1967-1975)
Text
jp2newman
to
84576
 to receive text alerts for upcoming events
To sign up for our mailing list, fill out the form below