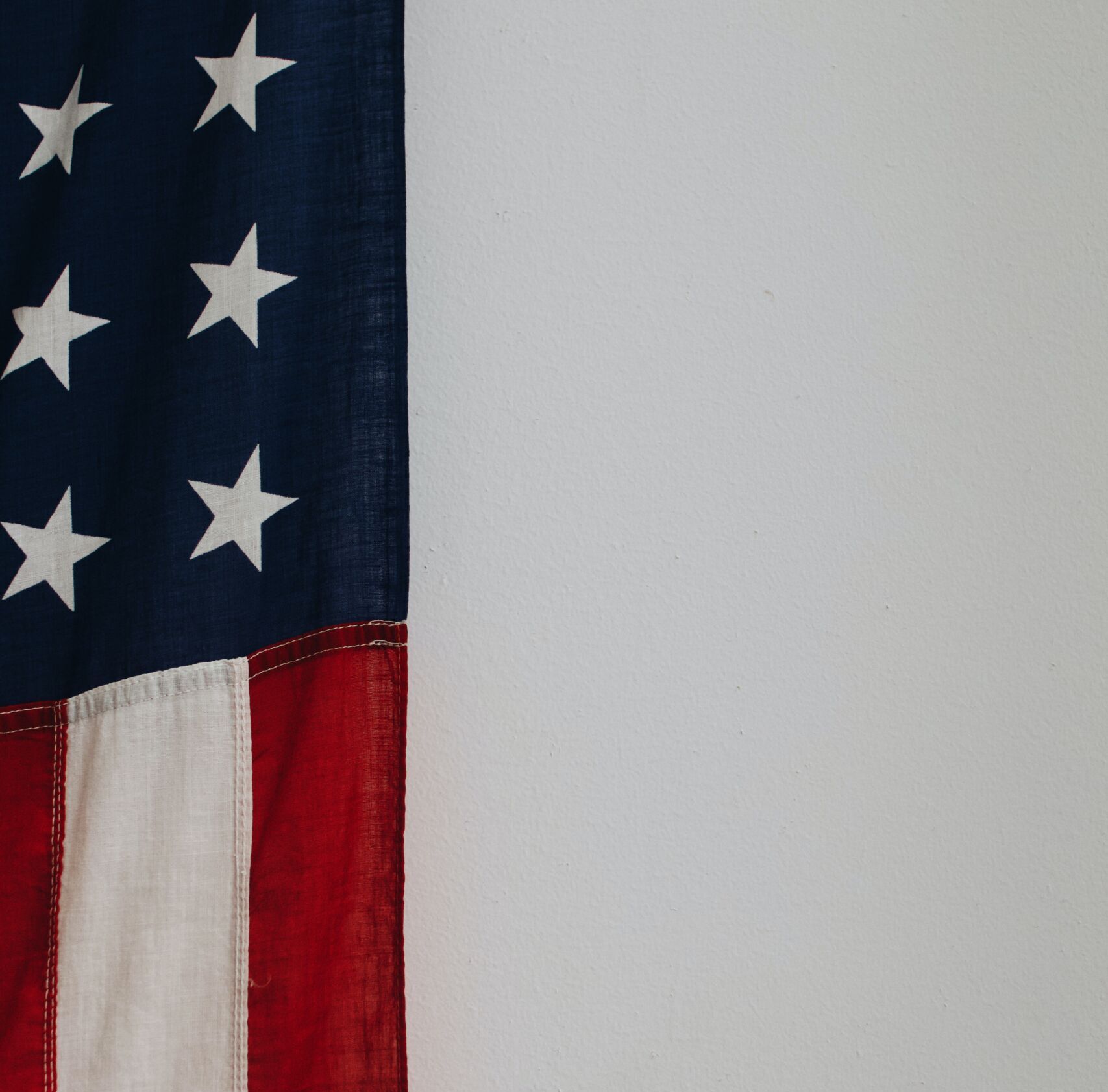 Faith and Politics: An Interfaith Panel Discussion
October 22 @ 4:00 pm

-

5:30 pm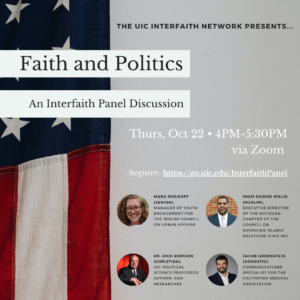 Where:  Zoom
When:  Thursday, September 22nd from 4:00PM-5:30PM
Join us for a non-partisan, interfaith panel discussion around the topic of faith and politics. This event is sponsored by the UIC Interfaith Network!
Register HERE
…………………………………………………………
Meet Our Panelists!
Mara Wolkoff (Jewish) is currently the Manager of Youth Engagement at the Jewish Council on Urban Affairs (JCUA). She comes from a background of electoral organizing and organizing around housing justice, and now runs a community organizing internship training program for high school students and one for college students. She loves working with youth to understand their own unique power in creating change in our communities, and doing it all Jewishly!
Dr. Dick Simpson (Christian) has uniquely combined a distinguished academic career with public service in government. He is a former Chicago alderman and candidate for U.S. Congress. He has published widely, been an outstanding teacher, and affected public policy. He began his academic career at the University of Illinois at Chicago in 1967 where he has taught for 50 years. At UIC, he received the highest awards given for teaching and the American Political Science Association (APSA) and Pi Sigma Alpha National Award for Outstanding Teaching. He is a former Department Head from 2006-2012, a previous Director of the department's Preparing Future Faculty program, and currently a Professor of Political Science at UIC.
Dawud Walid (Muslim) is currently the Executive Director of Michigan's chapter of the Council on American-Islamic Relations, member of the Michigan Muslim Community Council (MMCC) Imams Committee, and a Senior Fellow at Auburn Seminary based in New York. He has studied under qualified scholars in disciplines of Arabic grammar and morphology, foundations of Islamic jurisprudence, and sciences of the exegesis of the Qur'an. He is the author of several books, including the 2014 book, Qur'an in Conversation, and he also was a political blogger for the Detroit News from January 2014 to January 2016. Walid has lectured at over 100 institutions of higher learning in North America, Great Britain and West Africa about Islam and social justice and has also been interviewed and quoted in approximately 150 media outlets ranging from the New York Times, Wall St Journal, National Public Radio, CNN, BBC, FOX News, and Al-Jazeera. Walid was a 2011-2012 fellow of the University of Southern California American Muslim Civil Leadership Institute (AMCLI) and a 2014-2015 fellow of the Wayne State Law School Detroit Action Equity Lab (DEAL). He has also received awards of recognition from the city councils of Detroit and Hamtramck and from the Mayor of Lansing, as well as a number of other religious and community organizations.
Jacob Greenstein (Agnostic), having been born and raised in Sacramento in both a household and a city full of integrated diversity, has been curating the necessary skills and passion for intercultural and interfaith work from a young age. As a young adult, Jacob put these skills to their biggest test yet in Texas where he earned his BA in International Politics from Texas Christian University. In Texas, Jacob had first-hand experiences with ethnic and religious prejudice and segregation, pushing him to dedicate his undergraduate career to improving his campus and community to be more accepting and understanding of all people. In honor of all of his work, he received the TCU Religious Life Leadership Award for leading his community to mutual appreciation and understanding. Since graduating, Jacob has worked with and for several political and interfaith groups including the United Religions Initiative, California Interfaith Power and Light, and the State Capitol to name a few. He currently serves the California Medical Association as their Communications Specialist, where he manages many of their public affairs efforts and is involved in multiple community efforts to turn the tides towards equity and understanding while giving people a seat at the table.
…………………………………………………………
FAQs
~How long is the event? The event will run from 4:00-5:30PM CST. Panel Discussion will last about an hour, followed by 30 minutes of Q&A.
~Will I be on camera or heard once I join the event? No, only our student emcees and panelists will be on camera. Attendees will be able to view only, but may be asked to participate in the chat.
~Will I be able to ask questions during the Panel Discussion? Yes, you will be able to ask any questions for our panelists by submitting it in the designated Q&A area. There will also be an option to submit a question anonymously.
~Do I need a Zoom account to join? No, just register via the link above and you will be emailed a personal link to log in. Just follow the instructions in that email!
~Can I join from a laptop, phone, or tablet? Yes, any of these devices will allow you to join.
————————————————————————–
For further information, contact Becca.