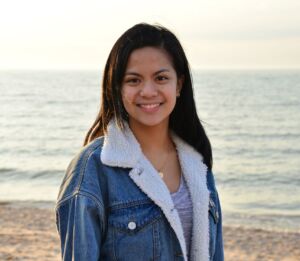 Written by Ella Ramos, Rising UIC Junior
UIC shut down. Chicago shut down. The world shut down. And all of this happened just as I was coming down from a spiritual high.
I had just attended one of the best retreats of my life through the Newman Center, where I had met so many amazing, like-hearted people who I knew would help bring me closer to God. I felt completely re-energized, ready to take the world by storm as a daughter of Christ when it suddenly felt like the rug had been yanked right under my feet. Not only was I going to be separated from the community I had grown so much with during the past year, but it was also unclear as to how long it would be until I'd be able to safely set foot inside what I had come to consider my home away from home.
A couple weeks into quarantine, when the daily routine of eating, sleeping, and attending class virtually was starting to blur together, one of UIC's FOCUS missionaries, Monica, reached out and invited me to a daily virtual Lectio Divina hosted by her and the rest of the UIC FOCUS team. This time of prayer really saved me during such an uncertain and anxious time. Through these daily Lectio sessions held over Zoom, I was able to reconnect with other UIC students, with whom I thought I'd lose touch, and to fall deeper in love with the Word. Being able to reflect on what Jesus wanted to say to me and hear how others were also touched by Scripture further cemented the foundation within me — the power of discipleship. 
The Newman Center staff and the FOCUS team made every effort to make sure that we students still felt the presence of Newman through several virtual events, such as game nights, a Coffeehouse, where students could showcase their talents through song or comedy, and a Catholicism 101 talk by Fr. Connor. In his talk, Fr. Connor encouraged us to go through our days with a sense of intentionality, to welcome God in whatever space we are in, and to let the Holy Spirit guide us to be better children of Christ. These words, as well as the Newman Center's virtual community-building opportunities, have given me and many others the strength to carry on through this pandemic, strength that we can share and use to support each other both now and post-pandemic.