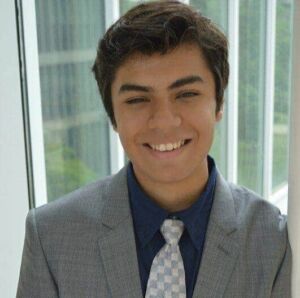 Written by Israel Lopez, Rising UIC Senior
We all know that God is present in a chapel, but what about in a coffee shop? 
Working as a barista, you wouldn't think, "Oh, this is the perfect opportunity to evangelize," yet this is exactly what the Newman Center staff had in mind when building our coffee shop. Although the unique location of this establishment, within a university's Catholic Newman Center, brings in several customers who are indeed Catholic, our extensive marketing and personal invitation have graced us with the opportunity to meet and serve people who are all along the "faith spectrum." However, students often stop by in between their classes, and it may be the only time they ever step foot inside the Center. Therefore, it is vitally important to show them "radical hospitality." 
Radical hospitality means putting in great effort to make sure guests feel welcomed into whatever space they have stepped into. Everyone who stops by the Newman Center, for example, deserves to feel welcomed into God's home, so even if it's just to buy a cup of coffee or to pop into the chapel for a quick one-on-one with God, our volunteer student baristas do their best to make sure everyone who steps up to the counter is seen, heard, and included. Radical hospitality can look like anything from providing a simple smile, sharing some small talk, or even answering questions about what Newman has to offer in terms of resources and events. Through these small acts, we, as baristas, are able to make personal connections with everyone we encounter, as well as make it known that, regardless of a person's faith background or beliefs, everyone is welcome at Newman. Hopefully, they can encounter Christ through us and our work, and who knows how God can enter their lives after a cup of coffee!