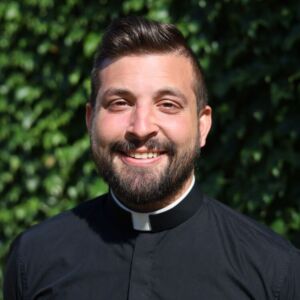 Written by Becca Siar, Director of Campus Ministry
Why do you think college ministry is important, and why do you think it's a good fit for you?
FR. TIM: I was blessed to work with high school students for the past three years, and every year, my seniors from the parish had to transition into "college life," where they were bombarded by different ideologies, prompting curiosity and questions. College ministry gives students the ability to have their questions answered, especially in an environment where they know that they loved and where they truly belong. I think its a good fit for me because I came into my Catholic faith in college. I know how difficult it is to live your faith as a college student, and I have a burning desire to show the love of Christ to students who are seeking Jesus, whether they know it yet or not.
With the shortage of priests to staff parishes, why do you think it's important to have a second priest at the Newman Center?
FR. TIM: My vocation to the priesthood was rooted in the priests that I knew on campus at the Newman Center at University of Illinois. At the time, there were four priests at the Newman Center, and each of those priests emulated Jesus Christ in a unique way. I was attracted to their vocations and their fervor, but also their brotherhood, fraternity, and joy. As a college kid thinking about the priesthood, common questions I often had were, "Will I be happy as a priest? Will I be lonely?" Seeing the joy and brotherhood that these priests had for each other gave me the answers I was looking for. I hope the friendship and brotherhood that Fr. Connor and I have can serve as a witness to others who are also asking those same questions.
Why do you think the Newman Center a good place to foster vocations?
FR. TIM: Very simply, in recent years, the vast majority of vocations to the priesthood and religious life come from college-aged students. Not only that, but Newman Centers around the country boast great numbers of vocations. Both Fr. Connor and I are products of a Newman Center, as well as five other Chicago priests that I can think of off the top of my head. The beautiful thing I see in our college students is a desire for truth and a willingness to NOT be satisfied with what the world is offering. They want something more. Vocations are always found in the followers of Christ who want more.